Every Friday, I take my favorite "picks" from my week on the web and post them here for you to enjoy. But before I announce my picks, here is a quick recap of this week's posts on ToriAvey.com– just in case you missed them. 
ZABARS NEW YORK – ROSH HASHANAH COOKING DEMO
L'Shanah Tova New Yorkers! On Sunday, September 25 at 2:00pm and 3:30pm I'll be cooking up some Rosh Hashanah delights at Zabar's New York! You can find me in the Housewares mezzanine, where I'll be demonstrating some of my favorite Rosh Hashanah recipes. This is a free event. Yes, there will be tasting samples. Hope to see you there!
A moist and flavorful loaf cake. Perfect for Rosh Hashanah, dairy free and so delicious.
FAMILY FUN: STAINED GLASS FISH FOR ROSH HASHANAH
Learn to make a stained glass fish using wax paper, construction paper, and crayon shavings. A fun way to teach your children the symbolism of fish, and being "like the head and not the tail," at Rosh Hashanah.
Tzimmes. What is it? How do you pronounce it? And most important, how do you make it? Here's my favorite stovetop recipe for this simple and sweet root vegetable stew!
This aromatic, flavorful, juicy chicken is drizzled with honey white wine sauce. A delicious option for Rosh Hashanah, or any special occasion!
Want to learn the secret to an evenly cooked, perfectly roasted chicken?
It's easy! Truss me. 😉
TORI'S WEEKLY WEB PICKS
Here are some of my favorite picks from the web this week.
IN ERIKA'S KITCHEN: ROSH HASHANAH
Erika Kerekes from the fabulous food blog In Erika's Kitchen posted a fun interview with me about the holidays this week! Take a look, and make sure to subscribe to Erika's food blog– it's awesome! She's one of my favorite foodies.
THE JEWISH DAILY FORWARD: BIRD-SHAPED CHALLAH HOLDS SPECIAL MEANING FOR ROSH HASHANAH
Did you know that bird-shaped challah is symbolic for the High Holidays? The tradition started in the 18th century in Ukraine. Read more about the history behind this pretty food, then learn to bake it yourself in Leah Koenig's article for Forward.com.
NPR: GROWN-UP APPLES AND HONEY FOR ROSH HASHANAH
Honey Almond Semifreddo With Honeyed Apples? Apple Macarons With Honey Buttercream? A Rosemary Honey Apple Galette? These recipes are definitely not your average holiday apples and honey!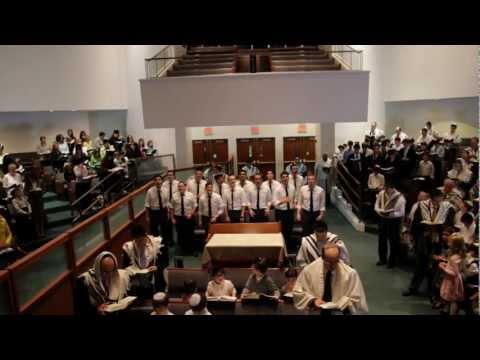 THE MACCABEATS: BOOK OF GOOD LIFE

I'm a big fan of the Maccabeats! I sang in my high school's show choir, so this type of music is right up my alley. In their newest music video, The Maccabeats have taken the song "Good Life" by OneRepublic and written new lyrics that celebrate the High Holy Days and the Book of Life.
TWITTER SHOUT-OUTS
Every week, I post the Twitter accounts that make me smile with their
fun or interesting tweets. Here are this week's picks…
@erikakerekes for posting this fun interview with me for Rosh Hashanah…
@kosherstreet for their great site KosherStreet.com…
@primetimeparent for her fun family and kosher food blog Primetime Parenting!
COMMENT OF THE WEEK
This comment came in on Facebook from blog reader Shari when I posted a video of me baking Honey Apple Cake on Chicago's WGN Network:
I made that cake last year for Rosh Hashannah. My 100 year old bubby said it was one of the best cakes she had ever eaten! I'm making it again for her this year.

Bubby for the win!! That is the highest praise I can get. Thank you Shari!

Shabbat Shalom everybody! Have a great weekend!
Tori xo