It's glorious, that first bite of a warm pastrami sandwich on freshly baked rye. If you've ever eaten pastrami at a great Jewish deli, you know what I'm talking about. That moist, tender meat topped with spicy mustard is enough to make almost anyone swoon. When my husband and I took the Queen Mary from London to New York several years ago, we docked at 6:00am and found that we were hungry. Our first stop? Katz's Deli for a pastrami on rye. It didn't matter that the sun was barely up. Pastrami is good any time, day or night. When the appetite strikes, you must feed it. Trouble is, many of us don't live close to a great Jewish deli, and mediocre pastrami can be SO disappointing. What can you do? Make it at home, that's what!
I've tried my hand at homemade pastrami several times with varying degrees of success. It wasn't until a publisher sent me a review copy of The Artisan Jewish Deli at Home that I finally found a recipe worth blogging about. In their fabulous cookbook, authors Nick Zukin and Michael C. Zusman give workable home kitchen recipes for many Jewish deli favorites. In addition to uncovering the secrets of making these classic recipes at home, Nick and Michael delve into the traditional techniques used in deli kitchens. They also include nostalgic profiles of the most famous deli establishments in North America, including Katz's in New York and Mile End in Montreal.
Nick Zukin helped to open Kenny & Zuke's Delicatessen in Portland, one of the first Jewish delicatessens "focused on producing artisanal eats." Michael C. Zusman is a state court judge who also does freelance food and restaurant writing. His bread recipes are currently used at Kenny & Zuke's.
Deli-style pastrami emerged in New York during the late 19th century and remains a best seller on most deli menus. Because of its lengthy and laborious process, very few delis still cure and carve their own pastrami. Zukin and Zusman have whittled down the process to a very simple, doable recipe that requires relatively little effort. After making a simple brine the meat cures in the refrigerator for 5 days, then it's rubbed with a spice blend and left to cook in a slow oven for a few hours. According to the authors:
"Delicatessen aficionados might cringe at the idea of making pastrami in the oven, since wood smoking is supposed to be the customary cooking method. At least that's what they think. In truth, some of the most lauded pastrami and smoked meat involve no wood smoke at all. In his must read chronicle, Save the Deli, David Sax reveals that the smoky flavor in commercially produced pastrami comes from fat dripping down and sizzling on the gas element of the large ovens that are used."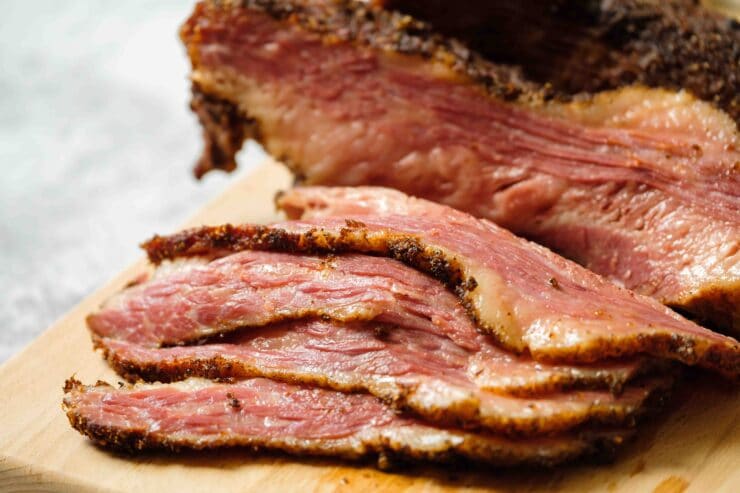 Side note: I love Save the Deli, I actually covered it on the blog a few years back.
To add that smoky flavor to the brisket, Zukin and Zusman use a hefty dose of smoked paprika (one of my favorite spices!). The result is delicious, quality pastrami hot and fresh from your own oven. My house smelled just like a deli while it was cooking. The flavor and texture were delightful– tender and flavorful. I tested the recipe multiple times just to make sure it wasn't a fluke. It's not. This is some killer pastrami.
I stayed pretty true to Zukin and Zusman's recipe, though I did adapt it slightly by cutting back on the salt. My first test round was extremely salty– good for a bite or two, but if I'd eaten a few slices I would have puffed up like a balloon. The next testing round I cut the kosher salt in the brine in half. I thought it might be too much and that I'd have to add some back in, but half the salt actually provided the perfect flavor. My five dinner guests taste-tested it for me, and they all agreed that the lower sodium brine it was plenty salty. So I present the recipe with the kosher salt halved; if you prefer to try it as written in the cookbook, use 2 cups of kosher salt in the brine.
Update: Nick Zukin let me know in the comments that they used Diamond large crystal kosher salt, which has less salt per cup than Morton's. I didn't realize that salt content varies from brand to brand. I am updating my recipe instructions to reflect the brand of salt we used. Thanks to Nick for the heads up!
Don't be daunted by the long prep time, the preparation is actually very simple. Most of the time here is spent on curing the pastrami in the refrigerator. After that it's no more difficult than roasting a brisket on a rack. The results are totally worth the wait. I have to hand it to Nick Zukin and Michael Zusman, this is a genius recipe. Their book has a lot of other great recipes for Jewish deli classics including Classic Deli Sandwich Rye, Onion-Poppy Seed Bialys and Cabbage and Smoked Meat Borscht. If you love deli food like I do, check out The Artisan Jewish Deli at Home. You'll be glad you did!
What's your favorite place to get a hot pastrami on rye?
Recommended Products:
We are a participant in the Amazon Services LLC Associates Program, an affiliate advertising program designed to provide a means for us to earn fees by linking to Amazon.com and affiliated sites. As an Amazon Associate I earn from qualifying purchases.
Adjust Total Servings     
16
servings
Ingredients
3

quarts

water

1

cup

Morton's coarse kosher salt

1/4

cup

pink curing salt

(Also known as Prague Mix #1, Instacure #1 or Curing Salt #1- NOT Himalayan pink salt. See safety note below.)

1

cup

granulated sugar

1/2

cup

firmly packed light or dark brown sugar

1/4

cup

honey

2

tbsp

pickling spice

1

tbsp

whole coriander seeds

1

tbsp

whole yellow mustard seeds

4

cloves

garlic

(minced)

3-4

lbs

beef brisket
Spice Rub Ingredients
1/4

cup

ground coriander

2

tbsp

freshly ground black pepper

2

tbsp

smoked paprika
Notes
You will also need: large stockpot, 2 gallon container with lid or two 1 gallon containers, 12 by 15 inch roasting pan with rack
Note on pink curing salt: this recipe calls for 1/4 cup pink curing salt, also known as Prague Mix #1, Instacure #1 or Curing Salt #1. Please note, I am not a curing expert - this recipe comes from deli owners Nick Zukin and Michael C. Zusman, who make pastrami day in and day out. They have informed me that because this is cured in a liquid brine, the salt amount is measured according to liquid volume. The curing salt is diluted by the water of the brine. If you have questions or concerns about the amount, I suggest you consult a curing expert.
Here is a bit more info on the amount of curing salt recommended here from Nick Zukin, one of the recipe's authors... "Every brine and piece of meat is going to be a bit different... based on the many times I've made the recipe and the brisket was not entirely cured and needed to brine an extra day suggests that the absorption rate is slower for our brine... I did a quick calculation. There are about 3 grams of sodium nitrite in the brine. (One-quarter cup of pink salt probably weighs about 50 grams and the nitrites are only 6% of the pink salt, so 3 grams.)... there's a lot of salt in my brine, 8 times as much as there is pink salt (prague powder #1). That means you're got about 285 grams of NaCL in the brine and only about 3 grams of NaNO2. Typically, something tastes perfectly seasoned at about 1.5% to 2% salt.That's what is used for sausages, typically. For 2 kg of meat, that would mean that to reach optimum saltiness of 2%, about 14% of the salts would have to be absorbed and the meat would have about 2% NaCL. If it did that, it would be about 200 ppm NaO2, which is the FDA recommended limit."
Regarding Nutritional Information: The recipe system on my site uses ingredients and number of servings to calculate the nutritional totals. Because the brine here contains a lot of salt, it's interpreting that as sodium in the recipe... but most of the brine is washed away before cooking, meaning most of the salt is washed away as well. I am not a nutritionist, and unfortunately do not know how much sodium is actually absorbed by this particular recipe.
Adapted from The Artisan Jewish Deli at Home
Instructions 
To make the brine, fill a medium to large stockpot with 3 quarts water. Add the kosher and pink salts, granulated and brown sugars, honey, pickling spice, coriander and mustard seeds, and garlic. Bring to a boil over high heat, stirring often to fully dissolve the salt and sugar in the water. Immediately remove the pot from the heat once the brine boils.

Add 3 quarts ice cold water to a 2-gallon or larger food-safe container that will fit in your refrigerator. Pour the brine into the container and place the container, uncovered, in the refrigerator until completely cool. We divided the brine evenly between two separate containers so that it would fit in the refrigerator.

Trim the fat from the brisket until the fat layer is about 1/4 inch thick. 


If necessary, cut the brisket in half so that it will fit into your container(s).


Submerge the brisket in the cooled brine.

Allow the brisket to brine in the refrigerator for 5 days, flipping it daily top to bottom and stirring the brine. Make sure that if any of the brisket sides are touching one another you regularly turn them away from each other to expose all of the sides to the brine.

To cook the brisket, pour 4 cups water into the bottom of a 12 by 15 inch roasting pan. Set a rack inside the pan and place the brisket on the rack, fatty side down.


To make the spice rub, mix together the coriander, pepper and paprika in a small bowl. Evenly rub 1/4 cup of the mixture onto the top of the brisket. Then flip the brisket and rub the remaining spice mixture onto the fatty side. Allow the brisket to come to room temperature, about 2 hours.


Preheat the oven to 300 degrees with a rack low enough to fit the pan holding the brisket. Tightly cover the brisket and pan with a double layer of aluminum foil.


Bake until the meat reaches an internal temperature of 200 degrees, about 1 hour per pound or 3-4 hours total.


Without trimming the fat, carve the pastrami into 1/4 inch thick slices, or cut as thin as possible without the meat falling apart. Keep tightly wrapped in aluminum foil or plastic wrap in the fridge for up to 1 week or in the freezer for up to 6 months.


SAFETY NOTE: handle the pink curing salt with care and keep it out of reach of children. It is used in pastrami and other cured meats to kill bacteria, prevent botulism and add flavor. However it is extremely toxic if ingested directly; in fact, it's colored pink to prevent people from mistaking it for regular salt. When used with care in recipes like this, it is very safe and necessary for proper flavor and food safety. That said, you should know the risks and keep the curing salt properly labeled and out of the reach of children.

Nutrition
Nutrition Facts
Homemade Pastrami
Amount Per Serving
Calories 243
Calories from Fat 54
% Daily Value*
Fat 6g9%
Cholesterol 52mg17%
Sodium 7161mg311%
Potassium 505mg14%
Carbohydrates 27g9%
Protein 18g36%
Vitamin A 655IU13%
Vitamin C 21.5mg26%
Calcium 81mg8%
Iron 3.7mg21%
* Percent Daily Values are based on a 2000 calorie diet.
Nutritional information should be considered an estimate only; please consult a registered dietician, nutritionist, or your physician for specific health-related questions. Read more
here
. Please note that the recipe above is published using a recipe card plugin, with preexisting software which can auto-calculate metric measurements, as well as change the number of servings. Metric conversions and changes to the number of servings (resulting in different ingredient amounts) will only appear in the ingredient list, and are not changed within the step-by-step directions of the recipe.